Posted by:
Sunayana Thakur
Publish Date:
25 Jan, 2022
While the pandemic has upended the lives of millions, it would be safe to say that it has affected the socially vulnerable even more severely. And while the effects of the virus may deplete after a certain period, socially vulnerable citizens are likely to experience the ripple effects of the pandemic for longer, requiring consistent, extended care throughout their journey, to recover.
In dealing with both the Covid-19 situation and a socially vulnerable persons' disposition, the journey from detection to complete recovery is dotted with predictive steps: identification, diagnosis, monitoring, and care; with both situations viewable in the same light. We've all seen how data plays a huge role in dealing with the pandemic; data to evaluate the new gene mutations, data to analyse its impact, data to proposition new vaccines, data to pre-empt readiness of resources, and data to layout guidelines and advisories across geographies.
The same steps can be initiated in managing social vulnerability:
Data to Identify - Identifying vulnerable adults or children is the first challenge that needs to be addressed to ensure the provision of care. However, these vulnerabilities are varied and can be challenging to ascertain. For example, a vulnerable child may hide abuse to avoid labelling or receiving further abuse. Another example where a vulnerable individual may be incorrectly categorised is where a young adult resorts to committing crimes in a bid to find shelter at a state prison. The incorrect categorisations can be addressed with proper data analysis, which can help correctly identify and categorise the person needing care.
Data to Classify: The evaluation of a citizen's data can conclusively determine their condition. This information can be used to classify the correct vulnerability segment they fall within, helping to determine an intervention strategy and optimise the care path.
Data to Monitor: Data helps build a pipeline of key performance indicators (KPIs) that can be monitored to assess the current state. This can include health records for the disabled and ageing, social data for youth prone to addictions or crime, etc. The use of ethical AI to intercept correct interventions is prescribed to detect problematic behaviour or any excesses seen in the records.
Macroeconomic Trends as a Guideline: Data, as varied as the Gross Domestic Product (GDP), Consumer Price Index (CPI), or the price of crude oil, can be used to interpret global phenomena and measure the preparedness for citizen care. Planning resources is the best way to handle a problem as complex as social vulnerability. Preparing for delinquency can stub the very phenomenon, making forecasting a vital technique that needs to be incorporated in planning care.
Data to Care: The customer satisfaction and quality scores from citizens' feedback indicate governance maturity. Suppose the same principles that are digitalising the customer service operations in private bodies, such as the importance of being first-time-right, low time to response, zero complaints, the reduced need for transportation, transparent service-level agreements, and a 360-degree view of the citizen, were used to optimise operations by the Local Authorities/Police/Ambulance service. In this case, the social vulnerability of citizens would be much easier to navigate.
The process outlined below aligns with the current methodology operational at social care centres. This process is a clear candidate for data-driven insights and decision making. Using AI tools and integrating ethical AI can ease the provision of social care to those vulnerable individuals, making it more efficient to handle social care at scale.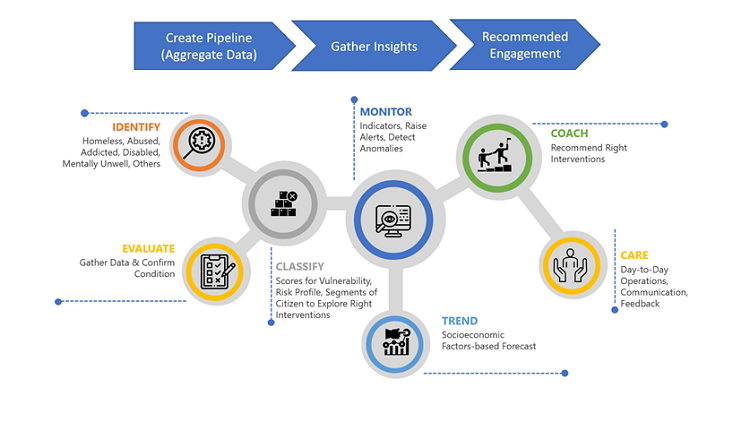 We are conducting a free webinar on AI & Data-Driven Digital capabilities to address the social vulnerability in the UK public sector on Thu, Jan 27th, 2022 10:00 AM GMT. Register now!