Posted by:
Saritha Koroth
Publish Date:
9 Dec, 2021
These days, you can't move without hearing about 'RPA'. The newest buzzword about town, RPA is featured in almost all the major research reports like Gartner, and Forrester. Data gathered in surveys across various sectors all point to the fact that Robotic Process Automation (RPA) will be a game-changer in the coming months and years. However, for myself and Rimjhim Agrawal, (Associate Consultant, ABAP), the area of RPA was completely new, so when we stumbled across the TechGig Geek Goddess event we decided to enter it for fun. We didn't expect to win.
As consultants at invenioLSI, it's critical that we stay one step ahead of emerging technologies. One afternoon whilst researching RPA and its uses, we stumbled across the hackathon in our various community updates shared from UIPATH, the leading RPA vendor in the market.
The TechGig Geek Goddess event is hosted specifically for women technologists. This event, sponsored by UIPATH, mainly focuses on coding, AI-ML Hackathons and RPA Hackathons.
When it comes to automation, there are two types generally available
Pre-built automation – This involves reusing the automation packages already available and tweaking them to meet our business needs. Usually, this automation is done by RPA developers, with some coding and logical aptitudes.
Citizen Developer – This is where an automation process is built by business users leveraging various activities provided for Outlook, Excel, images, document processing and other applications. This all sounded very cool to us!
The Geek Goddess hackathon categories reflected these different types of automation.
We spent some time understanding the format of the UIPATH Hackathon and decided to participate in the Citizen Developer category to showcase a simple but effective scenario that will empower business users.
We began to wonder if it was possible to create a cool service dashboard with a single click. It sounded absurd, but we like a challenge and we thought we could do it. Turns out we were right.
The challenge:
Organisations and businesses around the world create various sets of reporting dashboards at various levels to monitor efficiency, operations, progress parameters, and other key performance indicators. However, this process usually involves a great deal of manual intervention at various levels, to collect reports from departments and sources.
Participants were tasked to create an example of a service desk report that collected data from various Excels and tools and to use some manual fine-tuning to meet an organisation's report requirements.
The judging panel wanted a solution that would:
Empower business users
Require minimal dependency
Reduce user training costs
Reuse what's available
The Solution
We proposed a solution that would leverage UIPATH's studio x tool to build a report automation flow as shown below…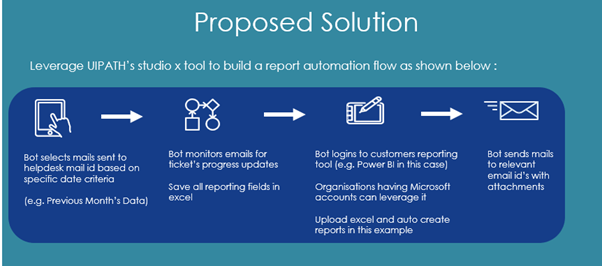 This required a bot to select emails based on specific criteria, which is then sent to a helpdesk mail ID. The bot then monitors these emails for the ticket progress updates and saves data in reporting fields in Excel. Then the bot logs in to the customer's reporting tool (we used PowerBI), uploads Excel, and then auto-creates reports that it then mails to the relevant recipients.
You can see a working demonstration in this short video.

With our working prototype, we were delighted to have bagged ourselves first prize in Citizen Developer at the TechGig Geek Goddess UIPATH Hackathon event 2021 and we can't wait to return next year for a fresh new challenge.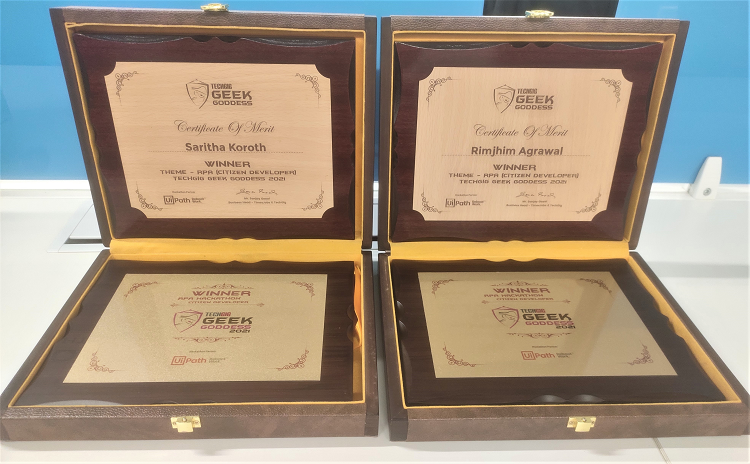 This isn't the first time that we've demonstrated our commitment towards innovation and cutting-edge technologies. In 2020, we made 4 submissions to the MuleSoft Hackathon, one of which is guaranteed to make sure you get out of bed on the right side every day of the week.