Posted by:
Caroline Silva
Publish Date:
1 Jun, 2022
Around the world, Pride Month is a time of promoting self-affirmation, dignity, and increased visibility for the LGBTQ+ (lesbian, gay, bisexual, transgender, queer, and questioning) community. It is a time to reflect on the resilience and strength of the LGBTQ+ individuals around us who continue to stand tall in the face of adversity while striving for equality and acceptance. During this time, we can all celebrate the vast diversity of our community by taking action to lift each other up. We asked invenioLSI employees which charities and organizations they choose to support this June, and we compiled the list for you.
Here are 5 LQBTQ+ Organizations you can support this Pride Month!
1. The Oath





The Outdoorist Oath is an educational model that wraps up an action-based commitment to the planet, inclusion, and adventure. Founded by Teresa Baker, José González, and Pattie Gonia, the Outdoorist Oath is here to support a different and healthier outdoors. The Oath offers workshops, partnerships, and opportunities to donate and volunteer. Learn more about how you can contribute by visiting their site.
2. ALSO Youth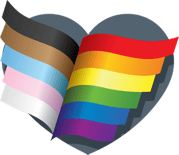 ALSO Youth is a Non-Profit Charity that provides peer support services, educational programs, advocacy, and referrals for gay, lesbian, bisexual, transgender, intersex, and questioning youth ages 13 to 24, their families and friends, and the community, thereby enhancing self-esteem, promoting healthy dialogue, and increasing awareness of sexual minority youth issues. Learn how you can help here.
3. The Trevor Project


The Trevor Project is the world's largest suicide prevention and crisis intervention organization for LGBTQ+ young people. The organization offers crisis services such as direct suicide prevention and crisis intervention services to support via phone, text, and chat. They also offer a variety of other programs such as Peer Support, Research, Public Education, and Advocacy. Support the Trevor Project today!

4. AIDS/Lifecycle





AIDS/LifeCycle is a 7-day, 545-mile bike ride from San Francisco to Los Angeles, co-produced by and benefiting San Francisco AIDS Foundation and the Los Angeles LGBT Center. The event raises awareness about the ongoing HIV/AIDS epidemic and funds services such as HIV testing, prevention, care, and much more. If you're into cycling or just want to support a good cause, you can learn more here.

5. The HRC Foundation






The HRC Foundation – a tax-exempt 501(c)(3) organization – envisions a world where all LGBTQ+ people can participate fully in the systems that shape our daily lives. Through public education, research, and policy and practice change, the Foundation's impact can be felt in schools, on factory floors and corporate suites, and in places of worship. It touches LGBTQ+ lives from childhood through end-of-life, people of all races, ethnicities, sexual orientations, gender identities, abilities, and religious beliefs, in big cities and small towns, in the United States and across the globe. Click to contribute.

---
So there you have it—5 organizations you can support this Pride Month. At invenioLSI, we are committed to fostering an inclusive culture and welcoming community to all. We hope you found our recommendations helpful, but remember: there are countless ways you can help make a difference in the lives of LGBTQ+ people everywhere. If you're looking to give back in your local area, The Charity Navigator is a great resource to help you find an LGBTQ+ organization near you. Happy Pride!