Posted by:
Caroline Silva
Publish Date:
16 Feb, 2022
Today, many universities in the US are experiencing a decline in the number of college aspirants. This trend threatens the very existence of many of these establishments as this sudden decline significantly contributes to revenue loss for many colleges and universities. To survive, higher-ed institutions have had to adapt.
Before we dig into the adaptations that have and need to occur, let's understand why we are seeing this decline. According to Forbes and National Student Clearinghouse Research Center (NSCRC), the overall college enrollment fell to 16.9 million students this spring, down more than 600,000 students from a year ago. This substantial decrease can be due to many factors. The most apparent is the global COVID-19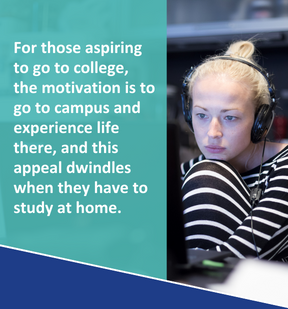 pandemic. With more schools and universities being pushed to support remote learning structures, campuses across the globe are forced to close their doors to students. For those aspiring to go to college, the motivation is to go to campus and experience life there, and this appeal dwindles when they have to study at home. The charm of attending a large institution is not the same when it lacks the iconic "college experience".
Not only have students been asked to adjust to an online environment, but colleges and universities have had to adapt as well. Left with little choice, these institutions have had to develop a new curriculum that works in a remote environment. Plus, data that was once accessed in person must now be available from home offices. Systems also need to align with the requirement to support the complex day-to-day office operations entirely online.
Higher ed institutions have also had to rethink education in its entirety. Despite a decline in undergraduate attendance, graduate admissions increased by 4.6% last spring - the equivalent of 124,000 more students. This tells us a lot about how the idea of education is beginning to shift. Once the main form of revenue for universities, undergraduate degrees might soon be replaced by graduate programs, continuous education programs, and career development courses. Higher education institutions must rethink how they do business by offering new education pathways that appeal to college-going students looking for more than the traditional education structures.

So, where do SAP and invenioLSI come into play? As universities see an increase in remote learning and administration, there is a need for data to be more accessible. What's one way that we can get better access to data? The answer is in the cloud. Replacing old on-premises systems with cloud-based systems has become an integral part of many higher ed digital transformations. There is a greater need to access data remotely and to access data in real-time and faster, and this is where we see a shift in databases specifically to SAP S/4HANA.
Although this all sounds relatively simple, the process can be somewhat intimidating. In one sense, you create a much better experience for the end-user. However, more accessible data and better user interfaces imply more stress on the IT teams managing these systems. Although the outcome will be better, faster, more efficient, it's the actual adoption of a new process that will be a challenge.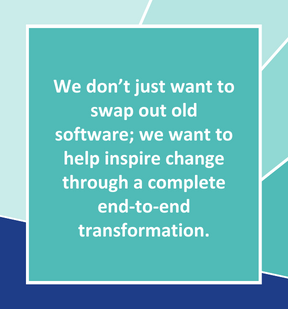 Universities and colleges are faced with the age-old question, how do we get people to change? That's where invenioLSI comes in. We go beyond technology by providing a solid change management component in our projects. We make it easier for institutions to adopt and adapt. We help organizations understand the benefits of their new systems and software so they can feel empowered to use new tools. We don't just want to swap out old software; we want to help inspire change through a complete end-to-end transformation.
Without a doubt, the changes experienced in the last few years have been substantial, and like everything else, the world of higher education has had to veer off traditional practices and have had to adapt. Speak to our team today and learn more about how we can help.