Posted by:
James Maysonet
Publish Date:
29 Nov, 2021
The pandemic effect on content production
While we are all tired of hearing about how this pandemic has affected our lives, the fact remains we will be living with its impact for years to come, with the entertainment industry in the eye of its storm. In 2020, production ceased when put on indefinite hold. Once production started up, it required COVID-19 safety protocols. And, as we slowly emerge from the fallout of the Delta variant, content production now must deal with the long-term impacts of the pandemic.
Consumer demand for streaming content has skyrocketed, theaters are nowhere near pre-pandemic tickets sales, and the delicate debate between direct-to-streaming or both theatrical and streaming releases is more relevant now than ever given the changes to consumer habits.
Additionally, supply chain shortages and ballooning budgets are stressing the already overtaxed process with content production financing. On top of this, the demand continues to grow exponentially, with no end in sight, adding even more pressure to content production of the television and streaming industries, despite concerns over content overload, streaming fatigue, and the paradox of choice.
The growing demand for streaming
In a 2021 report by Statistika, the average television viewing time is at 3 hours and 17 minutes per day and the global video streaming market size is likely to hit USD 843 billion by 2027, exhibiting a CAGR of 12.0% during the forecast timescale. – Source Globe News Wire June 30, 2021
Regardless of country/region, genre, or time of day/day of the week, the demand for content is growing globally and content production is experiencing both a sprint and a marathon of a staggering proportion.
Between January 2020 and December 2021, the U.S. will release 7,824 series (streaming, broadcast, and cable). In the U.S. alone, seven of the top streaming U.S. companies will invest over $45 billion in 2021 content production, (Reported by Bloomberg Intelligence – Jon Erlichman, Senior Anchor at BNN Bloomberg – June 21, 2021). Globally, in 2020, 138 countries generated over $106 billion with their OTT platforms and this revenue is estimated to double in 4 years, as reported by Digital TV Research.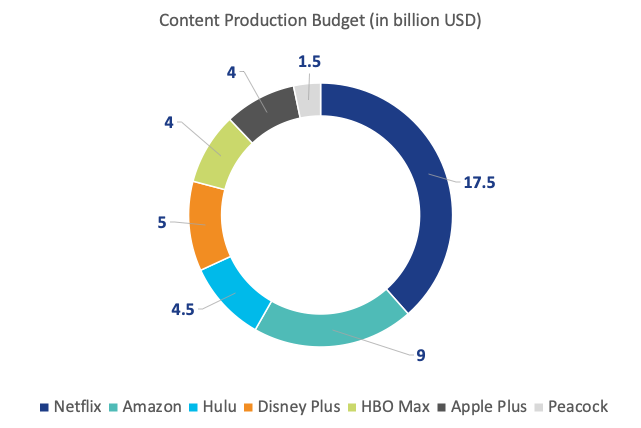 Despite the pandemic hammering another nail in the coffin of theater ticket sales as we know it, it has not slowed down the need to produce feature film content to meet the demand; various analysts estimate that theatrical revenue will crawl to close to pre-pandemic numbers in 2024.
The challenging process of managing your production finances
Given all this turmoil, what do all the content owners have in common? Every major content owner, media company, or studio shares the painful and complex process of managing production budgets. Each production requires its budget, and every budget needs to be managed with both micro and macro approaches to facilitate informed decisions. This is a challenge that even masters of production budget management deal with daily.
Acquisition vs. in-house production, original content, paid upfront or third-party distribution—each approach to content deals has different financial implications that drive decisions. The trend for streaming companies is to retain all rights globally, which can remove all the triggers for later payments to top talent while cutting out distribution companies who need new titles to keep their content library fresh. The equilibrium between the labor unions, streaming content companies, and Hollywood as an entity is being eroded due to the perpetual debate over the timing of payments. These variables and many, many more all go into the decision-making process and require sophisticated financial modeling.
New line items on the budgets such as PPE, COVID 19 Tests, and safety management protocols have already increased production costs by close to 30%, not considering the increase of any travel and accommodations needed for the crew. The cost of materials has almost doubled due to supply chain shortages for building materials required for sets, as they are the same materials in high demand for the housing industry. New line items along with the inflated cost of essentials due to increased demand have forced the industry to be creative in offsetting costs. However, simulating the various options with current tools is impossible due to lack of speed, scalability, and ease of use.
These three areas are where invenioLSI has the expertise, with technology and tools that enable integrated tracking of budgets, costs, and revenues by episodes and seasons, helping to amortize the season and content assets over a five-year period. These tools allow content owners to not only control production costs but also gain an aggregated view of production working capital and financing needs across the organization.
invenioLSI Content Financials
Partnering with an organization that has decades of experience with evaluating the lifecycle of an asset and that is known for transparency has earned invenioLSI a strong foundation of trust. An award-winning team for change management, delivery, and analytics, our knowledge and experience are key to your success, which invenioLSI strives to ensure.
invenioLSI can be the enabler to your content budget management needs—from simulation and forecasting to operational efficiencies and executive reporting.
Any content owner that is currently running SAP ECC or S/4 HANA should become aware of the value and benefits of Content Financials. Consider this article an eye-opener, like when a friend tells you about a great app on your phone that simplifies a part of your day-to-day.
invenioLSI is the Gold Partner of SAP that created Content Financials along with unique solutions for Media and Entertainment, leveraging SAP HANA technology, the in-memory platform for processing high volumes of data in real-time. invenioLSI is not a generic technology implementor but a specialist in the media industry who can become your trusted advisor in your journey to digital transformation.
For major studios, using current tools is passable, but many options fall short when it comes to delivering executive information while managing the detail for the line producers. This product not only allows for multiple factors of ultimate revenue and ultimate costs, it also gives insights into the impact of changes made to the overall budget.
Production finance and tracking cost associated with titles while managing a budget are highly complex and very fluid, even more so in these difficult times, with the fallout sure to reverberate through the years to come. Some of the tools today are bolted on to fancy visualization software that generates reports, but Content Financials is purposefully built to facilitate content production and all it brings: forecasting, budgeting, approval workflow, simulations, executive reporting, detail tracking, amortization, cost management, and ultimate's calculations. All of these benefits come with your established current tools as Content Financials seamlessly integrates with your Rights Management system of choice by design, delivering even more value to your digital supply chain, organization and leadership. This transparency and integration facilitate the justification of the total cost of your budget at an accelerated rate.
Uncertainty can be very uncomfortable, so go with a team that has guided so many organizations through the struggles of the unknown.