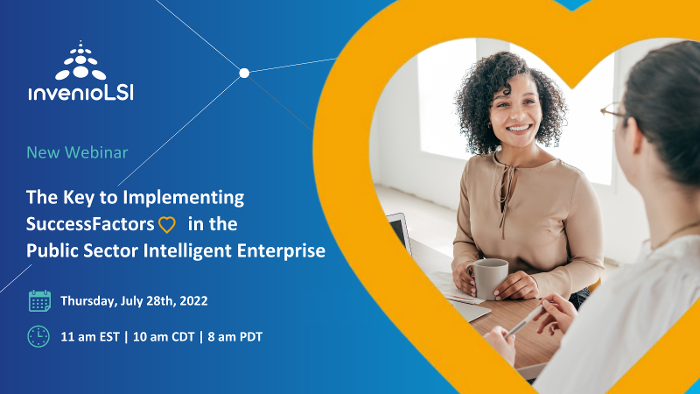 New Webinar: The Key to Implementing SAP SuccessFactors in the Public Sector Intelligent Suite
Please join us on July 28th, 2022 from 11 am- 12 pm EST, to learn how SAP SuccessFactors can improve the Human Capital Management landscape for public sector organizations.
SAP SuccessFactors goes beyond the core administrative HR and Talent Management functions (payroll, contracts, new hire tasks) to help put your public sector employee's needs first. Creating and happy and healthy work environment is at the core of attracting and retaining employees. For public sector organizations, budgeting is vital to ensuring that this investment in employees can be made. With the help of SAP SuccessFactors, these organizations can make the most of their budget.
In this webinar, we discuss some of the challenges faced by public sector organizations, our best practices for preparing for implementation, and view a full demo of SuccessFactors in use.
In this webinar you will learn:
Common HR challenges faced by public sector organizations

An overview of how SAP SuccessFactors fits in the Intelligent Enterprise suite

Recommendations for planning an SAP SuccessFactors implementation

Gain insight into the SuccessFactors modules